If you are trying to achieve the ultimate balance between healthy foods and delicious recipes, let us help you spice things up. A lot of healthy foods can be delicious, especially when prepared with extra virgin olive oil. Our gourmet olive oil baskets come with recipes created by top chefs. These olive oil recipes are compiled from around the globe to help you get the best out of your premium gourmet olive oil gift baskets. Together with the vast selection of high-end imported real olive oil and vinegars, our gift baskets entail the delivery of free recipes, plus other additional rewards for those who enroll in the club membership. Our silky and smooth extra virgin olive oil embodies quality and remarkably softens your dishes more than normal oils or fats. That's why you'll definitely need these olive oil recipes handy. Here are some recipes that you can enhance using gourmet olive oil!
Chicken Piccata
Chicken piccata is well prepared with olive oil. The ingredients entail:
2 tablespoons of olive oil: Gourmet Blends Tuscan Herb
2 boneless, skinless, shapely-cut chicken pieces

¼ teaspoon of freshly ground black pepper

A handful of sea salt
1 lemon cut into wedges
1 ½ cups of chicken broth
3 tablespoon of nonpareil capers
1 tablespoon of chopped fresh rosemary
1 minced garlic clove
3 tablespoon of vegetable butter
 Instructions from www.simplerecipes.com
Season chicken with salt and pepper. Dredge chicken in flour and shake off excess.
In a large skillet over medium high heat, melt 2 tablespoons of butter with 3 tablespoons olive oil. When butter and oil start to sizzle, add 2 pieces of chicken and cook for 3 minutes. When chicken is browned, flip and cook other side for 3 minutes. Remove and transfer to plate. Melt 2 more tablespoons butter and add another 2 tablespoons olive oil. When butter and oil start to sizzle, add the other 2 pieces of chicken and brown both sides in same manner. Remove pan from heat and add chicken to the plate.
Into the pan add the lemon juice, stock and capers. Return to stove and bring to boil, scraping up brown bits from the pan for extra flavor. Check for seasoning. Return all the chicken to the pan and simmer for 5 minutes. Remove chicken to platter. Add remaining 2 tablespoons butter to sauce and whisk vigorously. Pour sauce over chicken and garnish with parsley.
Basil Truffle Ravioli
Image Source : www.pinterest.com
For lovers of green vegetables, try out the Basil Truffle Ravioli. Ingredients include:
1 tablespoon of gourmet blends Basil olive oil
1 cloved minced garlic
2 tablespoon gourmet blends white balsamic
1 packet of porcini mushroom and Truffle Triangoli
½ lemons worth of juice and
2 pinched lemon peppers
With all these ingredients in place, the procedure is simple.
After mixing all the ingredients, cook for 15 minutes with moderated heat.
Decorate with tomatoes, fresh basil and sea salt.
A delicious indulgence!
Lamb Souvlaki
Image Source : www.mygreekdish.com
Try out a well prepared lamb meat that is finely dip-fried in olive oil to bring out the true fascinating taste of the meat. For a dinner of about 7 people, ingredients include:
2 lbs. of lamb meat sliced into fine pieces
½ cup of red or white wine
¼ cup of olive oil
1 tablespoon of sea salt
3 minced garlic cloves
1 tablespoon of freshly ground black pepper
2 tablespoon of dried Oregon
Instructions from www.mygreekdish.com
For the kebabs: Combine oil, lemon juice, herbs, and garlic. Combine marinade and lamb. Cover, and refrigerate for at least 4 hours (preferably overnight).

Make the tomato relish: Preheat grill to medium-high. (If you are using a charcoal grill, coals are ready when you can hold your hand 5 inches above grill for just 3 or 4 seconds.) Brush tomatoes with oil, and season with salt. Grill until charred and softened, about 5 minutes per side. Coarsely chop, then place in a sieve set over a bowl. Let drain for 10 minutes. Discard liquid.

Heat oil in a saucepan over medium heat. Cook shallot until translucent, 3 to 4 minutes. Add water and sugar, and simmer until liquid has reduced by half. Add tomatoes and vinegar, and cook for 2 minutes. Stir in 1/2 teaspoon salt and the cayenne. Let cool.

Make the marinated feta: Combine oil, lemon zest and juice, dill, pink and black peppercorns, and red-pepper flakes in a nonreactive dish. Add feta, and turn to coat. Marinate until ready to serve (no longer than 1 hour or cheese will begin to break down).

Thread lamb and onions onto 8 skewers, alternating. Thread a lemon wedge onto one end of each skewer. Season with salt and pepper. Grill until a meat thermometer inserted into lamb registers 130 degrees for medium-rare and onions and lemons are caramelized, about 5 minutes per side. To serve, place each kebab on top of a whole pita, pull out the skewer, and top lamb with relish. Crumble feta over top.
Parma Ham Tart Coupled with Swiss Chard with Olive Oil Crust
Image Source : www.ocado.com  
For pastry lovers, this recipe will give you your fix of pastry cravings. Ingredients include:
250g whole-wheat flour
1 tablespoon salt
60ml of olive oil
120ml cold water
1 teaspoon rosemary
1kg Swiss of parma ham and chard
Instructions from www.ocado.com
Heat the oven to 200C, gas 6. In a large jug mix together the eggs, cream, vegetables and pesto.

Line 8 spaces of a 12-hole muffin tin with Parma ham. Pour in the egg mixture to fill each 'case'.

Bake for 15-20 mins or until the egg has set to the touch. Cool a little before serving.
Foudjou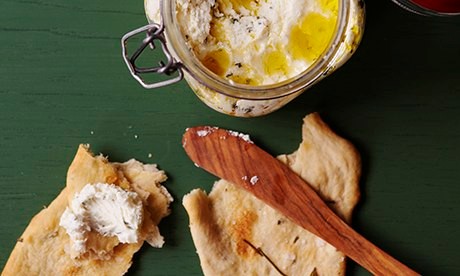 Image Source : www.eatyourbooks.com
This is a French soft cheese in olive oil with herbs. The addition of virgin oil just makes the cheese outstanding and yummier than you can imagine.
Ingredients: 
6 oz sheep's milk ricotta or soft goat's cheese
2 oz hard sheep or goat cheese
2 tsp thyme leaves
1 Tbsp brandy
2 Tbsp B.R. Cohn Tuscan Blend Extra Virgin Olive Oil
Instructions from www.eatyourbooks.com
Mash the cheese in a bowl.
Finely grate the hard cheese and add to the soft with the thyme.
Mash with the alcohol and half the oil.
Season.
Pack into a small sterilized jar, pour the rest of the oil on top and seal.
Refrigerate for a few days before eating, and return to room temperature to serve.
These are only a few recipes that you can enhance using extra virgin olive oil. Our gourmet olive oil and vinegar gift baskets include high-end quality ingredients that will contribute to the richness of flavor to many more meals. Check out our website at
www.gourmetoliveoilvinegar.com
to see what gourmet gift baskets we offer.